Welcome
Welcome to Affordable Window Coverings in Santa Maria, California, where you'll find fair pricing on high-quality blinds, shades, and shutters. We like to say we have solutions for all of the windows and doors in your home.
Are you looking to:
Control the lighting in your home?
Save on your energy bill?
Increase your privacy?
Update the décor for one room or all?
Our knowledge and experience help to determine exactly what's best for your needs.
We sell and install window coverings in the Santa Maria and surrounding areas.
Featured Product
Melhanna Roller Shades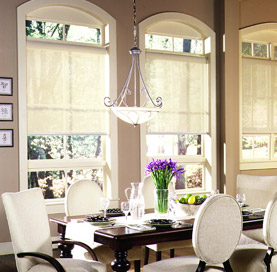 The roller shade is still one of the most popular window covering products in today's market. Through the years the roller shade has changed much in style. The roller shade of years past mostly came in one color - white, but over time would yellow with age. Sometimes the shade would annoyingly escape the grip and slap itself round and round the tube at the top.
The roller shade has come along in featuring chain-driven clutches for shade operation. This type of operation allows for wider and longer shade sizes to be made with heavier fabrics than those in the past. And speaking of fabrics, the palette today brings high fashion to the roller shade.