Welcome
Welcome to Affordable Window Coverings in Santa Maria, California, where you'll find fair pricing on high-quality blinds, shades, and shutters. We like to say we have solutions for all of the windows and doors in your home.
Are you looking to:
Control the lighting in your home?
Save on your energy bill?
Increase your privacy?
Update the décor for one room or all?
Our knowledge and experience help to determine exactly what's best for your needs.
We sell and install window coverings in the Santa Maria and surrounding areas.
Featured Product
Melhanna Panel Track Shades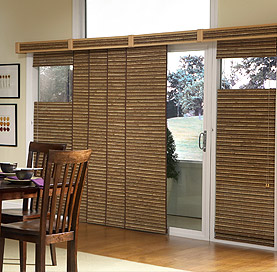 Melhanna® panel track shades are popular for large windows and large expansions of glass. These panel tracks are also ideal for patio and sliding doors. Excellent as room divider. The possible decor variations are endless. Panel track shades can be displayed alone, or matched with woven wood shades to give a room well-coordinated feeling.